The Ultimate Kitchen Remodel Checklist: What To Consider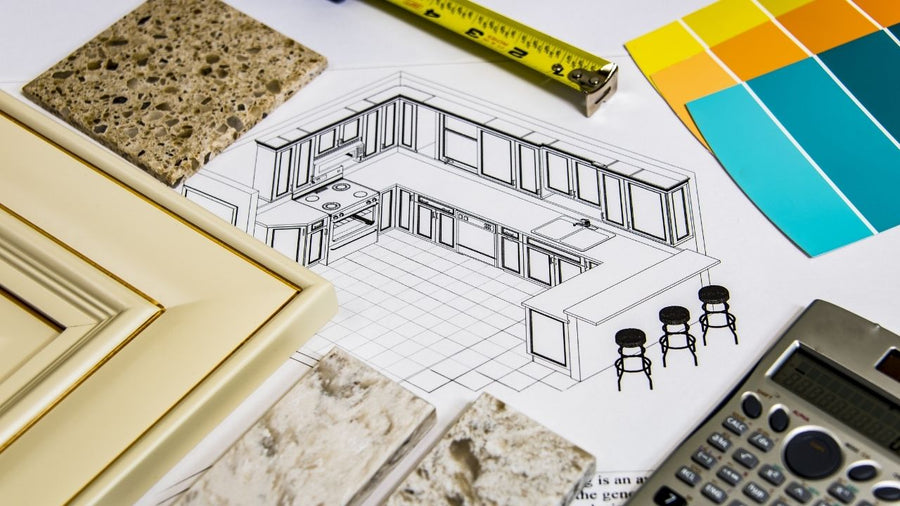 What homeowner doesn't dream of replacing their kitchen's older appliances, refinishing their cabinets, and redesigning their floor plan? There's an old saying that says the eyes are the windows to your soul, but any homeowner knows that their kitchen truly reflects their inner personality. Whether you're interested in modern minimalism or classically vintage decor, your kitchen says a lot about your home's character.
While renovations are a perfect opportunity for creativity, they can also quickly turn into overwhelming projects. Coordinating paint colors with your wood finishes and possible decor can quickly become overwhelming when you're not ready for the magnitude of these home renovations.
If remodeling anxiety is smothering your creative spark, we're here to help. In this article, we're sharing the ultimate kitchen remodel checklist to show homeowners what to consider before diving deep into this renovation project.
Updating Older Appliances
A kitchen renovation is an ideal time to evaluate which of your appliances desperately needs an update. Even if you create an aesthetically pleasing kitchen, you will not be satisfied with your remodel if you're holding on to outdated or unattractive kitchen appliances. After all, new paint colors and cabinets will not distract you from a defunct dishwasher or energy-draining oven.
To evaluate which appliances require an upgrade, consider these three questions:
How old is the appliance?
How well does it work?
How much energy does it use?
Noting your responses to each of these questions will help you determine which appliances in your kitchen most urgently need an upgrade. Switching your older devices to high-end and professional kitchen appliances also comes with several benefits for your budget. For example, investing in modern appliances could yield the following advantages:
Fewer maintenance costs
Lower electric and water bills
Reduced daily stress and frustration
Don't remodel your kitchen without updating your appliances. Making these improvements will give your home a more functional and enjoyable space.
Improving Air Quality
Although few homeowners think of it, updating your kitchen's air quality during a home renovation is essential. As you cook, your stove and oven create steam, smoke, and fumes that can pollute your kitchen's air and layer grime in the crevasses of your backsplash and counters.
These air pollutants are the main reason why a high-quality range hood is so crucial. Range hoods use fan technology to collect smoke, fumes, and steam from your kitchen's air and either clean it or transfer these particles outside your home.
If you're planning to renovate your kitchen, our number one item on our ultimate kitchen remodeling checklist is a convertible ductless range hood. This appliance will revolutionize your kitchen's air quality and create a more convenient floor plan.
Ductless range hoods do not rely on attached vents to filter dirty air outside your home. Instead, they suck in polluted air, filter out contaminants with charcoal filters, and recycle clean oxygen back into your home.
Don't overlook your air filtration system when you're planning your kitchen renovation. Instead, consider how advanced technology such as ductless range hoods can benefit your home.
Rethinking Counter Space
Nothing is worse than working in a cluttered kitchen, so as you outline what you'd like to change during your remodel, consider how you can alter your counter space to look more organized.
For example, using bulky devices like toaster ovens, coffee pots, and other small appliances can quickly eat into your limited counter space. If you use a lot of these devices, consider swapping them out for slimmer models. Plenty of high-end kitchen appliances utilize sleek and thin designs to take up less counter space without compromising their cooking quality.
Once you start substituting your bigger appliances for slimmer, more advanced models, you'll notice a significant change in your counter space and overall kitchen presentation.
Adding Storage Cabinets
All passionate chefs and bakers know that finding enough storage for all your kitchen tools is an uphill battle. Regardless of whether you live on your own or share a kitchen with your family, running out of cabinet space for your glasses, utensils, and cookware is problematic.
Avoid these storage headaches by adding an abundance of storage spaces during your kitchen remodel. Consult with your contractor to consider your options for shelving, cabinets, drawers, and pantry spaces.
Pro Storage Tip: Multi-Purpose Storage
If you're having difficulties adding enough storage into your kitchen remodel, consider how you can create multi-purpose storage. For example, if you have jars or glass in your cabinet or countertop, store smaller utensils inside them. These small-scale, multi-purpose storage strategies will be instrumental as you reorganize your kitchen.
Change up Your Floor Plan
Homeowners often can't create the kitchen layout of their dreams because their current kitchen floor plan doesn't allow for it. If this is the case for your kitchen, consider changing your floor plan to create a more open space.
Before beginning your renovations, speak with a contractor to investigate whether you can break down your kitchen's current floorplan barriers. Taking out walls and installing islands in your kitchen can completely change its look and feel. 
Not only will your kitchen be more open, but you'll also have more freedom with how you can decorate and remodel it with a less restrictive layout. Although breaking down walls may require more inspections and consultations, this major renovation could allow you to create the kitchen of your dreams.
We hope our ultimate kitchen remodeling checklist has helped you note what to consider before starting your home renovation project. 
Don't overlook these aspects of a kitchen renovation. Contemplate how upgrading appliances, improving filtrations systems, optimizing counter space, adding storage space, and changing your floor plan can completely alter how you use your kitchen.
If you're ready to start looking for updated machinery, ROBAM is here to help supply you with the best appliances available. 
ROBAM provides high-end kitchen devices to make your kitchen remodeling more convenient and luxurious. To browse through some of our high-end appliances for sale or learn more about our products, check out our ROBAM website for additional information.