What Are the Different Types of Kitchen Range Hoods?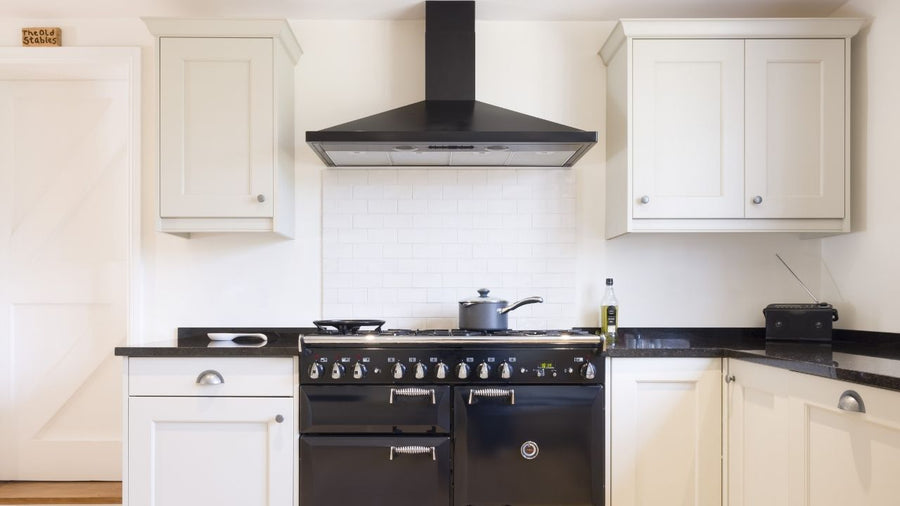 Many homeowners add a range hood to their kitchen, especially those who frequently find themselves cooking. This is because it helps circulate the air. The hood becomes more beneficial if you burn a meal or cook something especially strong-smelling since scents won't build up in the kitchen.
As you look around, you may find yourself wondering, "What are the different types of kitchen range hoods?" and "Which is best for my kitchen?" Get answers to your questions so that you can achieve your dream kitchen in no time!
What Is a Range Hood?
Nearly every kitchen has a range hood because it's as crucial as any other appliance in your home. This must-have helps filter and circulate the air in your kitchen, aiding in removing smoke, heat, and moisture from your home. While they often connect to external venting to remove contaminated air, some hoods filter and recirculate it.
Types of Range Hoods
Now let's get to the question of what the different types of kitchen range hoods are so that you can start shopping for the one you need. The most common types of range hoods include:
Wall-mounted range hoods
Ductless range hoods
Island or ceiling range hoods
Under cabinet range hoods
Outdoor range hoods
Each of these types is slightly different, and some may be better suited to your home than others. So we'll dive deeper into the details of each below.
Wall-Mounted Range Hoods
Depending on your kitchen's layout, getting a wall-mounted range hood could mean sacrificing or losing cabinet space. This popular hood type mounts to the wall above the stove. Additionally, you can sometimes purchase a chimney to pair with this rangehood for even better air ventilation in your kitchen and home.
When buying and installing this type, keep in mind that it should remain 28 to 36 inches above your stove to work properly. Additionally, wall-mounted range tops must connect to an existing duct system in your home and should go on a wall with a back that is on your home's exterior.
Ductless Range Hoods
Out of the many hood types, the ductless hood is among the most common. You can install it under a cabinet, on the wall, or above an island. While this type may not redirect air out of the home, it does help keep it away from the stovetop.
One disadvantage of this hood type is that it doesn't redirect air outside the home like other hood types. Instead, it filters the air throughout the kitchen and releases it back into the house.
Pro-Tip
Humidity in the kitchen can build up in a hurry with this type of hood due to the way it works. Most homeowners with ductless kitchen hoods recommend opening the window when things heat up!
Island Range Hoods
Many homeowners have their oven or range top connected to a kitchen island. For those homeowners, an island range hood is a great option. Rather than connect to the wall, island range hoods connect to a duct installed on the ceiling.
Under Cabinet Range Hoods
If you need something that has a low profile and works efficiently, an under cabinet range hood is great! Another beneficial thing about this type of range hood is that you won't have to sacrifice storage space for it since you install it under a cabinet.
Often, this is ideal for those who want a range hood but don't see sacrificing storage as an option due to a smaller kitchen or surplus of cookware. Home remodeling projects often require some sacrifice. However, this should never include a must-have, such as a range hood and storage space.
Like a wall-mounted range hood, an under cabinet hood needs around 28 to 36 inches of room to keep the air properly ventilated.
Outdoor Range Hoods
These are for outside cooking, so they're a bit distinct from average kitchen range hoods. Some people refer to these as BBQ range hoods, and typically you mount them to an outside wall for all your grilling needs. One important fact about this type of hood is that most sit a bit higher than the typical indoor hood for proper ventilation.
Tips for Shopping
As you shop for a range hood for your kitchen, you'll need to note more than the mount type you want. In addition to the kind of range hood, you should also consider the following factors:
Size: The hood should be the same size as your stove. You'll need a larger hood for an island.
Power: This differs based on stove type and the types of food you prepare. People who regularly cook often opt for stronger range hoods.
Noise level: Some hoods have lots of power but are loud. Check the product description for clues on this.
Since every homeowner has different needs and cooking habits, certain trade-offs may be worthwhile for you. But it's always best to know this before buying and installing your newest kitchen gadget. So, if you don't mind a slightly louder range hood in exchange for maximum power, note this in your search.
Look Into Materials
You can also narrow your scope by deciding what type of material you like best. For example, if most of your appliances are stainless steel, a range hood made of this material would go with the appearance of your kitchen.
On the other hand, some people want something that stands out and purchase wooden range hood covers to hide metal exhaust components. There are also people who prefer custom range hoods. In the end, the material you buy depends on your personal decorating taste. Keep in mind that metal ranges are often easier to pair with other appliances and are usually easy to maintain.
Investigate Brands
You should also look at various brands to ensure you make the best purchase as you shop around. For example, ROBAM sells various high-end range hoods to mount to your wall or ceiling. These come with touch screen options so that you can keep your cooking space smelling fresh!
Pro-Tip
Find out what other buyers have to say about the brand you're considering on various websites before deciding on a specific range hood. Not only does this help you understand the brand, but it also gives you an idea about the quality of the product.
Now that you understand the common types of range hoods plus some bonus shopping criteria, it's time to shop for this kitchen essential! ROBAM has various appliances and stove hoods for sale. So you can find the perfect one as you remodel this area of your home. There's never been a better time to upgrade your home into your dream space.