Tips To Make Your Kitchen Space More Inviting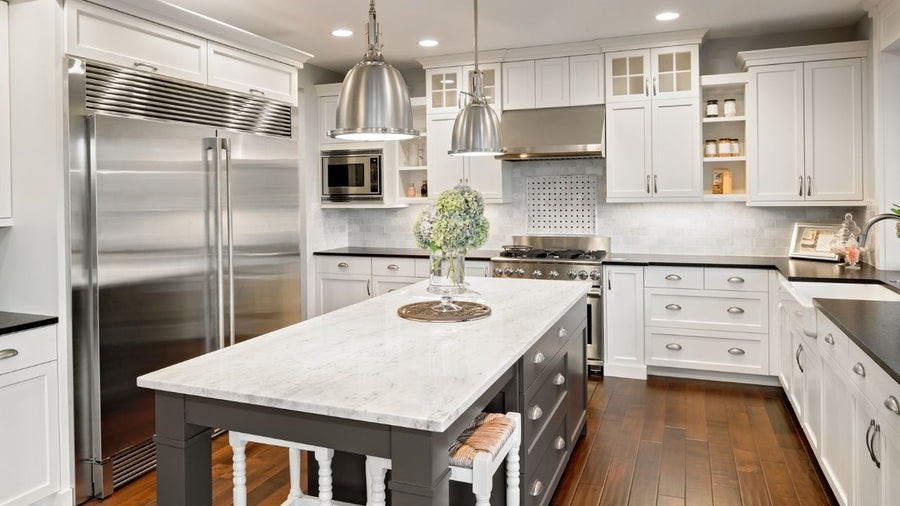 Many people refer to their kitchen as the heart of their home. It is a room where you should feel comfortable gathering with your family and entertaining guests. But if your space isn't inviting, you probably don't find yourself in it very often, making it feel like wasted space. Keep reading to learn some tips to make your kitchen space more inviting so it can become the heart of your home.
Provide Comfortable Seating
Your kitchen won't be inviting if people don't have somewhere comfortable to sit. It isn't just about hosting people either—you should have a comfortable place to rest while preparing a meal. Once you pop something in the oven or are waiting for a pot to boil, you can take a quick seat and allow your legs and back to rest without leaving the kitchen.
There are several seating options depending on the size of your kitchen. If you have a smaller kitchen, you can add a small island or cart that will add counter space and be a place to sit around once you add a few barstools. Just make sure to put the breaks on the cart before trying to eat and that you choose stools with a high back so people feel supported. Eat-in kitchens allow space for a table, so pick one that compliments your cabinets and countertops and also choose cushioned chairs for the most comfortable dining experience possible.
Stay Clean and Clutter Free
A messy kitchen is possibly one of the least inviting things to see in a home. If you have mail stacked on the table, a sink full of dirty dishes, and so many knick-knacks on display that you can't properly wipe down your counters, then no one will want to spend time in your kitchen, even you. To avoid this problem and enjoy your space, keep all visible surfaces as clean as possible. Clean up while you cook so you don't have a huge mess at the end.
If things have started to pile up, work your way through the mess slowly. Clean one section of counter space at a time until everything is wiped down and sanitized.
Keeping your kitchen clean will be easier if you keep your clutter to a minimum. Ensure everything remains organized and cut down on excess decorative details. Keep items such as cooking utensils and spice racks in cabinets and drawers, not out on the counter. Decorations such as towels, rugs, and curtains are okay since those items are useful, but don't clutter up backsplashes and counters with too many pictures or signs. The exception is growing plants or herbs since it will be easier to water them if they're already near the sink.
Add Something New
While it can be expensive to remodel an entire kitchen, adding a few new items will give the sense that you've upgraded your space without the high price tag of redoing everything. Try to make these new items practical instead of just decorative to keep clutter down and make the best use of your budget. If you're not sure what items to add or replace, make notes on how you use your kitchen. Is there an appliance that would make your daily life easier? Are you severely lacking storage? Does the kitchen constantly smell funny?
Once you know how you use your kitchen and what problems you have, bring something in to solve the issue. If you make a lot of desserts and are tired of mixing the batter by hand, this is the perfect time to invest in a stand mixer. Add a hanging pot rack if you've organized every possible cabinet and drawer but still don't have room for all your cookware. Install a hood vent if your kitchen stinks after using the stove or oven. Your new item will add flair to your space and make it feel new while making your life easier.
Bring in Light and Color
A dark kitchen isn't an inviting spot for your guests and, on top of that, isn't very safe. If your kitchen has windows hidden by curtains or blinds, remove them. Natural light will make your space feel more natural and welcoming and will save on your energy bill since you won't be using lights during the day. Even if you have nice windows, consider adding new lighting options or light fixtures. Task lighting over heavily used areas such as your sink and countertops will make your kitchen brighter and safer. And if your current kitchen light fixture blocks more light than it gives off, replace it. Light fixtures should scatter ambient light and illuminate your space, not just be a decorative feature.
Draw your guests into your light-filled kitchen with interesting pops of color. Consider colorful cabinets and backsplashes if you're doing a bigger remodel project. While neutrals such as grays, whites, and blacks are versatile and timeless, expanding your color palette is also a good idea. Warm pastels such as yellow and orange will bring a vibrant energy into your space without overwhelming the eyes. Cooler pastels such as green and blue create a soothing atmosphere. If you want a more dramatic look, choose more vibrant versions of these shades instead of pastels.
For a small colorful project, bring color in with accessories. Paint your cabinet hardware a bright color that compliments your cabinets and countertops, or add other useful, colorful items. Your kitchen will always need towels, so consider having brightly colored or printed tea towels on display. If you've added seating to your kitchen, try to find bar stools or chairs with colorful cushions. You can also choose colorful accessories such as rugs and curtains.
Providing comfortable seating, staying clean and clutter-free, adding something new, and bringing in light and color are great tips to make your kitchen space more inviting. If the addition you're hoping to make is professional kitchen appliances, then look no further than ROBAM. We offer range hoods, cooktops, ranges, steam ovens, dishwashers, and accessories to help your kitchen become an inviting place.